Near Water
近水
当我开始回溯我这些年去过的城市,走过的路。一切都好似和水有关。
With this book I tell my personal story of living in cities near water all my life. I write - reflect and share imagery of my journey with water.

Time: December, 2018
Tools: InDesign, Illustrator, Lightroom, Ricoh GR II, iPhone
Role: Graphic Design, Bookmaking, Writing, Translation (Special thanks to Jiaan Ji, Loretta Wolozin), Photography, Photo Editing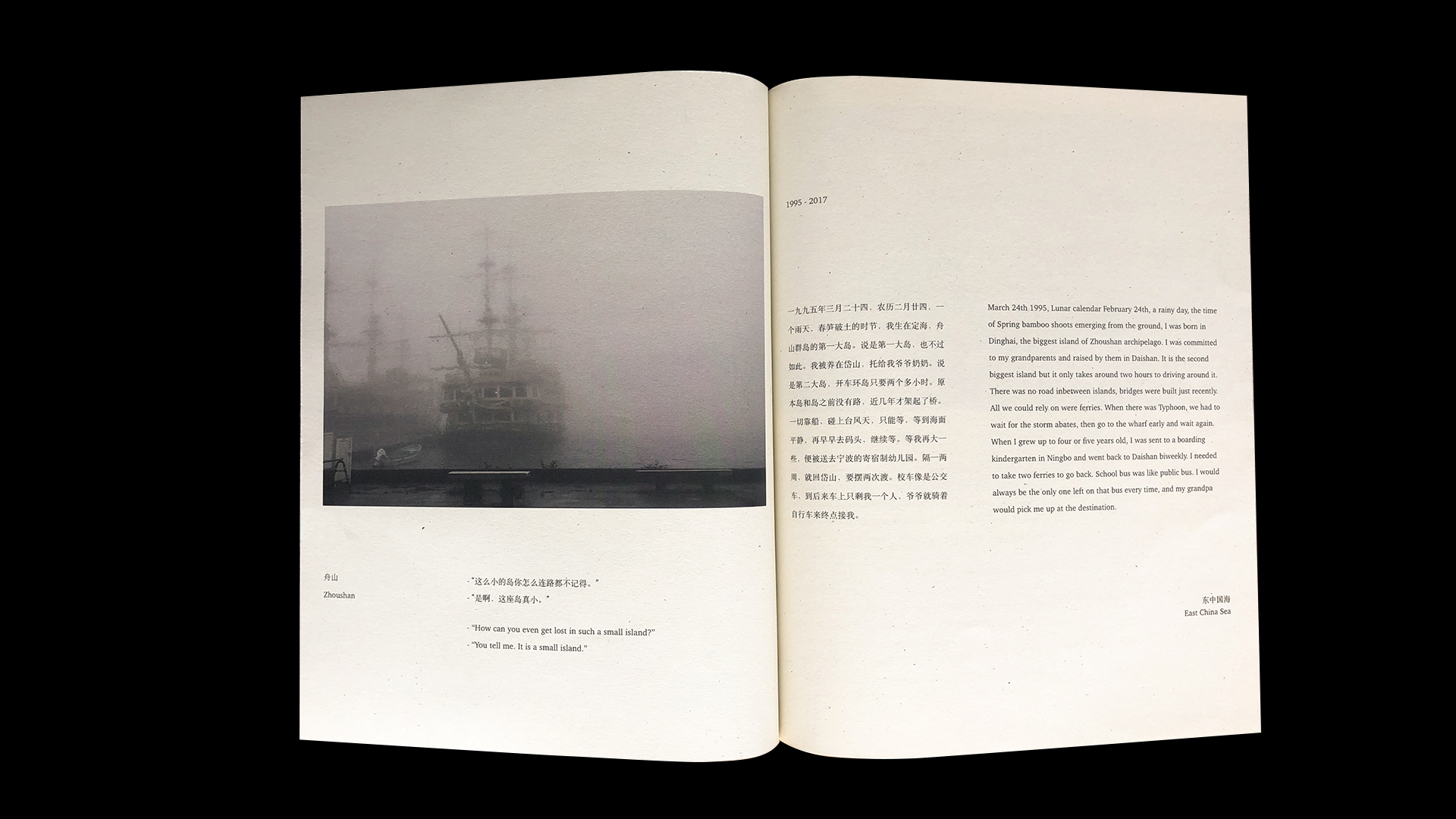 你说:
"我要去另一个国家,
另一片海岸,
寻找另一个比这里好的城市。
- 《城市》卡瓦菲斯


You said:
"I'll go to another country.
go to another shore,
find another city better than this one."

- The City, C. P. Cavafy
舟山 Zhoushan
1995 - 2017

东中国海 East China Sea

一九九五年三月二十四,农历二月廿四,一个雨天,春笋破土的时节,我生在定海,舟山群岛的第一大岛。说是第一大岛,也不过如此。我被养在岱山,托给我爷爷奶奶。说是第二大岛,开车环岛只要两个多小时。原本岛和岛之间没有路,近几年才架起了桥。一切靠船,碰上台风天,只能等,等到海面平静,再早早去码头,继续等。等我再大一些,便被送去宁波的寄宿制幼儿园。隔一两周,就回岱山,要摆两次渡。校车像是公交车,到后来车上只剩我一个人,爷爷就骑着自行车来终点接我。

March 24th 1995, Lunar calendar February 24th, a rainy day, the time of Spring bamboo shoots emerging from the ground, I was born in Dinghai, the biggest island of Zhoushan archipelago. I was committed to my grandparents and raised by them in Daishan. It is the second biggest island but it only takes around two hours to drive around it. There was no road inbetween islands; bridges were built just recently. All we could rely on were ferries. When there was Typhoon, we had to wait for the storm to abate — then go to the wharf early and wait again. When I grew up to be four or five years old, I was sent to a boarding kindergarten in Ningbo and went back to Daishan biweekly. I needed to take two ferries to go back. School bus was like public bus. I would always be the only one left on that bus every time, and my grandpa would pick me up at the destination.

- "这么小的岛你怎么连路都不记得。"
- "是啊,这座岛真小。"

- "How can you even get lost in such a small island?"
- "You tell me. It is a small island."
杭州 Hangzhou
2007 - 2017

钱塘江 Qiantang River

小学三年级,我随父母搬去杭州,浙江省省会,有山有水的城市。说是山,不过几个小土包。水倒是很多,像不要钱。西湖,西溪湿地,钱塘江,到后来杭州开始外扩,把白马湖和湘湖也算了进去。最著名的当属西湖,一到过节,下饺子一般。初雪那天,断桥残雪给脚印踏了个干净。只是我住在钱塘江边,上学放学要过江,刚来那几年,我真是讨厌极了这个地方,像住在郊区。但是来回搬了好几次都没有搬离开这条江。算命的说,聚财。读完小学我才从宁波转到杭州,初中高中都在一条叫做中河的河两边。三年,我从河的一边去了另一边,又过了三年,我去了北京。首都。

On the third year of primary school, my parents and I moved to Hangzhou, the capital city of Zhejiang. It is a city with water and mountains. They are more like piles of sand than actual mountains. However, there is quite a lot of water flowing in the city. West Lake, Xixi Wetland, Qiantang River, Baima Lake, Xiang Lake. The most famous one is West Lake. During holidays, the influx of tourists is just like boiling dumplings in a hot pot. Every time it snows, footsteps on the Broken Bridge will clean all the trace of snow on the first day. Back then, I lived near Qiantang River and I needed to cross the river to go to school. I hated this place in the first few years when I just arrived because it made me feel like I was living in the countryside. Later, we moved several times but never left this area. Maybe we stayed because of the fortune teller saying this area was perfect for amassing money and accumulating wealth. I left Ningbo and went to Hangzhou after primary school. Then, I spent my junior and senior high school studying along a river named Middle River. For three years, I went across the river, moved from this side to another side. Next, for another three years, I went to Beijing, the capital of China.



"我今年23岁, 我唯一的想法就是离开杭州。"

"I am 23 years old, the only thing in my mind is to leave Hangzhou."

于韦斯屈莱 Jyvaskyla
2015 - 2016

纽约 New York
2017 - 2019


大学期间,我短暂地去了芬兰十个月,一个叫做于韦斯屈莱的城市。市中心四个街区。我住的地方在森林里,不远处的湖是看北极光的好地方。只是我怕冷,再也没有回去过。再后来,现在,我辗转来了纽约。好几次别人问我,你在纽约哪里,我都只能不好意思的说我在泽西。因为我的确在泽西,纽约和我一江之隔。有时候有巨轮灯红酒绿驶过哈德逊河,好像一座海底巨兽披着劣质的霓虹,吟啸着浮出水面。至于哈德逊河,以前在我脑海里和塞纳河、伏尔加河没什么两样。都是外国的河。现在我每天坐着地铁穿过它的躯干。

I went to Finland shortly for ten months during my college. It is a city called Jyvskyla where four blocks compose the city center. The area where I lived is partly in forest. There was a lake nearby, which is a great spot to enjoy the scene of Aurora. Yet I was too afraid of iciness, so I never went back. After passing through many places, I came here: New York. Although I only study in NYC and live in Jersey City. I always feel a little embarrassed when being asked "where do you live in New York" because I actually live in Jersey while New York is on the other side of the Hudson River. Sometimes, there are big ferries with vibrant lights and stunning decorations slowly crossing the Hudson River like a giant sea monster wearing a cloth made with neon, roaring out of the water. As for Hudson River itself, it has no difference from the Seine and Volga in my mind. They are all just foreign rivers to me. Now I take the metro to go across the Hudson River every single day.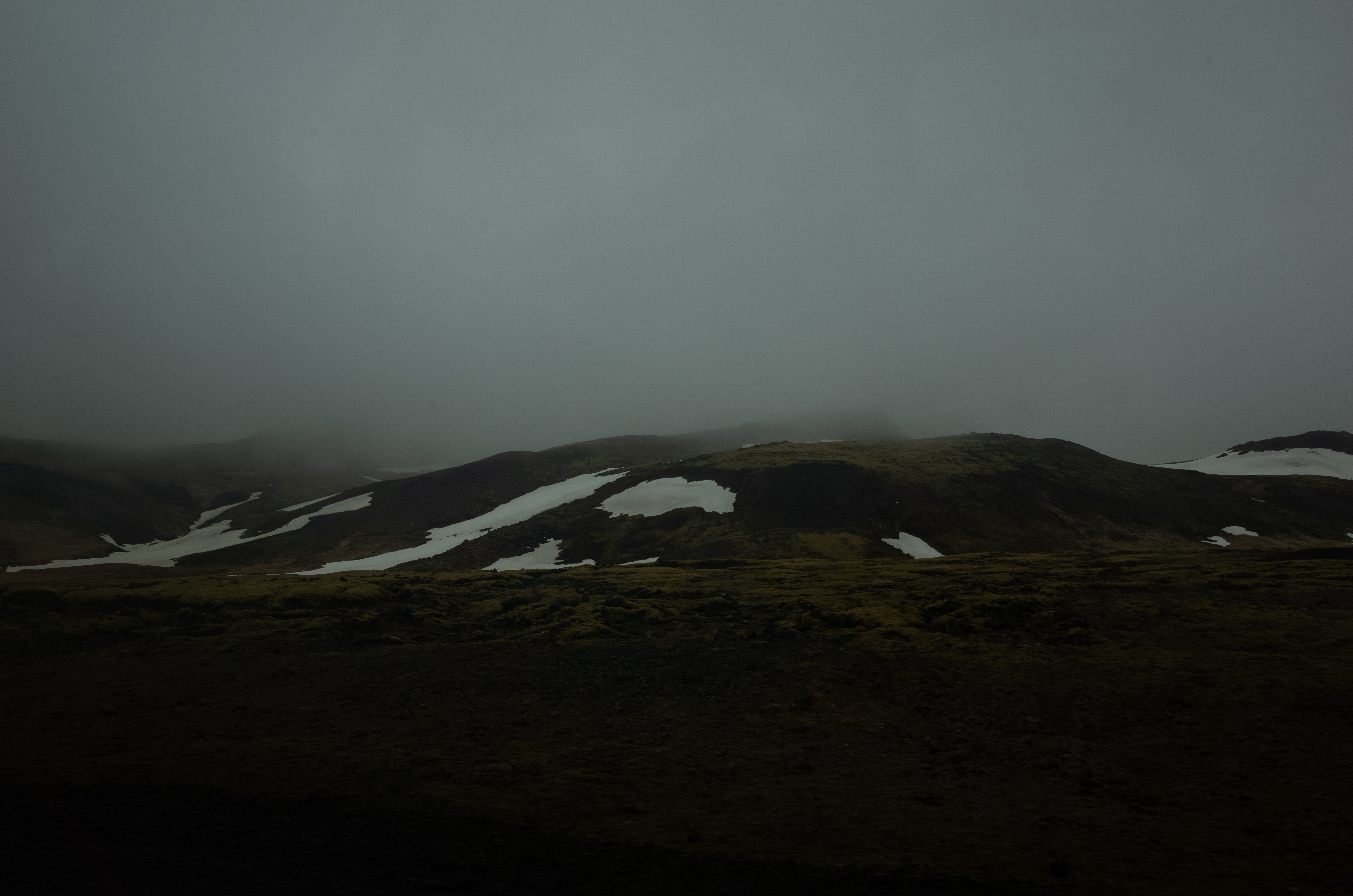 你不会找到一个新的国家,
不会找到另一片海岸。
这个城市会永远跟着你。
- 《城市》卡瓦菲斯


You won't find a new country,
won't find another shore.
This city will always pursue you.

- The City, C. P. Cavafy